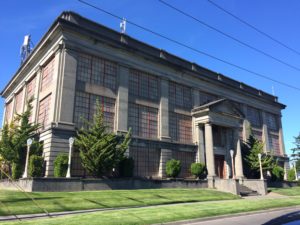 Time to Let Your Creative Self Run Wild
Tacoma's North End is on the cusp of a rare opportunity. On Monday, July 11 Tacoma Public Utility (TPU) and staff from the city's Public Works Department will be at a neighborhood meeting to discuss what's to be done with the Cushman Substation and the property surrounding it.
TPU has already contracted to remove the hulking power line towers that separate the east and westbound lanes of 21st Street North with new poles. That, in itself, will be a remarkable improvement in the neighborhood's appearance, and will allow for improvements to the road itself.
Less certain is what will be done with the substation property. The building is on the National Register of Historic Places. What it will be used for, the land around it, are still open questions.
North End residents have expressed that they want to be more involved in the conversation and direction of new development in their neighborhoods. This meeting provides a perfect opportunity to become better educated regarding this property and make their voices heard on the future of this exceptional structure and land around it.
One idea floated is a neighborhood park since the North End only has one small pocket park. Since the City of Tacoma's Comprehensive Plan notes that the Proctor Mixed Use Center has no public spaces, how could we envision such a community space?
To find out what your friends and neighbors are thinking show up at Monday's meeting at the University of Puget Sound's Trimble Hall Forum. The meeting begins at 6 p.m. Bring your questions, your imagination and an open mind. Oh yes, and bring a neighbor or two.
What: Cushman Substation's future use
Where: Trimble Hall on the UPS campus
When: 6 p.m. Monday, July 11, 2016