The message below was shared with NENC by City Council Member Robert Thoms on the upcoming City of Tacoma Open House on Neighborhood Rezoning, Monday, March 18, 2019, 6–8pm, at Stadium High School.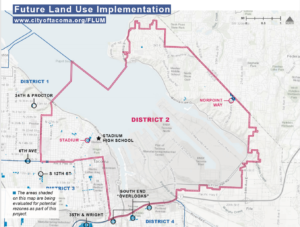 For more information visit the City's web page on proposed 2019 Amendments or view the Open House flier.
Open Houses were held in each Council District in February-March, 2019. Council Member Thoms will attend the March 18th event.
From Council Member Thoms:
"This is an important meeting to ensure our neighborhoods are protected, and I want to make sure this event is widely attended.
As we look to clean up our codes, we shouldn't allow our neighborhoods to be inundated with unmitigated impacts that come with density, such as lack of parking, lack of infrastructure like crosswalks, and insufficient patrols.
While I support density, I personally believe we, as a City, have too many Mixed Use Centers and these are being used as an excuse to upzone adjacent residential neighborhoods at a pace and scale that is potentially risky for the neighborhoods and that, frankly, doesn't take into account the multitude of impacts to date that haven't yet been addressed in our residential zones.
Those who care about our quality of life need our voices heard. We say "Quality of Life" all the time as a City but then we ask our neighborhoods to absorb more and more density without providing any relief in the form of residential parking, increased infrastructure investment, enforcement etc. I believe our voices are not as loud as special interest groups that say single-family residential zoning is somehow exclusionary, that is certainly not my goal. If the City and would-be development benefits our neighborhoods that is wonderful, but our history of addressing impacts is spotty at best, and non-existent in many cases.
I would like to have this event widely attended, that it is reported that neighbors came to share their concern, to ask the City for support and to be an effective partner. With a good turnout we can send that message.
I think our quality of life is job number one for me as your Councilman and I will continue to fight hard to ensure our voices are heard.
Thank you,
Sincerely,
Robert S. Thoms
robthoms1@gmail.com
253-307-8422