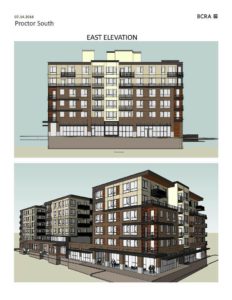 Public Comments Due
Wednesday November 2nd, 2016 by 5:00PM PROCTOR SOUTH
To read the SEPA report, go to:
http://tacomapermits.org/wp- content/uploads/2013/06/LU16-0098.pdf
How to comment on the report?
Provide well documented and supported concerns about impacts that require avoidance, reduction or compensatory mitigation in your comments.
Is the SEPA document complete and accurate?
Does it provide enough information to analyze the likelyenvironmental impact?
Does it identify mitigation measures to avoid adverseimpacts?
Is the evaluation and determination of significancesupported with findings and conclusions?
Are there alternatives that appropriately address thepurpose and need of the proposal?
General Tips
–  Clearly identify the document under review.
–  Avoid or limit asking questions and use "if-then"statements instead.
–  Make declaratory statements that are supported with facts.
–  Be respectful.
Example of alternative to asking a question:
Do say: "If this project will include the use of generators, then…"
Don't say: "It is unclear whether the proposal will include the use of generators."
Send comments to: Shirley Schultz, City of Tacoma
shirley.schultz@ci.tacoma.wa.us
State Environmental Policy Act
SEPA Preliminary Mitigated Determination of Nonsignificance
Proctor South – 2502 North Proctor File No, LU16-0098
Commenting allowed on these potential environmental impacts:
Air/Climate
Animals Plants
Public services
CulturalResources
Transportation
Utilities
Water
Earth
Energy
Environmentalhealth
Land use
Plants
Public services
Washington Department of Ecology, ecy.wa.gov/programs/sea/sepa