[This is post 3 of 6 in our series on Understanding the 2018 Annual Amendments.
View all posts in the series
.]
This application came from a private citizen and seeks an amendment to how building height is measured in all C-2 (Commercial) zoning districts in the VSD (view sensitive district) overlay district.
The View Sensitive District includes:
Old Town Commercial District (N 30th between N White and just past N Starr);
N Proctor & N 34th (West side of N Proctor, commercial area)
Titlow Park Commercial Area
Currently, a special VSD height measurement methodology is used to determine building height, while the City's Building Code uses a different methodology for measuring height.
The intent of the amendment is to create more parity among parcels in C-2 VSD (among upslope and downslope parcels), and create consistency in code on building height measurement.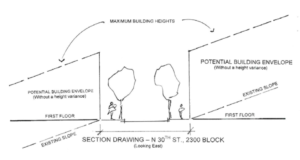 For more information:
For details on this and other proposed amendments, visit the city's website at cityoftacoma.org/2018Amendments. In particular, the Public Review Document has detailed staff reports for each project.
If you have feedback about this application, be sure to attend the public hearing (April 4) or send your written comments (April 6) by the deadlines!
Public Hearing Details:
April 4, 2018
Tacoma Municipal Building, Council Chambers
747 Market Street – 1st Floor
Meeting begins at 5pm with the public hearing beginning at approximately 5:30pm
In addition to comments at the public hearing, written comments are accepted until 5pm on Friday, April 6, 2018. Comments may be submitted to: Planning Commission, 747 Market Street, Room 345, Tacoma, WA 98402, via fax at (253) 591-5433, or via email to planning@cityoftacoma.org.