The Open Space Corridors Project is a step in implementing the City's Parks and Open Space designation in the new "One Tacoma" Comprehensive Plan.
It would update Critical Areas standards to better protect "Biodiversity Corridors" and "Steep Slope" areas to "prevent fragmentation of some of Tacoma's most valuable natural areas and clarify reasonable use of property in these areas."
The proposed "Biodiversity Corridors" include areas familiar to many of us in the North End like Puget Creek Gulch, Mason Gulch, and Buckley Gulch, as well as waterfront, areas with steep slopes, and other open spaces around the city.
The image below shows the proposed 'Open Space Corridors' (light green) and 'Biodiversity Corridors' (dark green) for much of Tacoma. You can view a full interactive map here: https://tacoma.maps.arcgis.com/apps/webappviewer/index.html?id=751bb3f3f37d455e96bf0b329cdf0f4a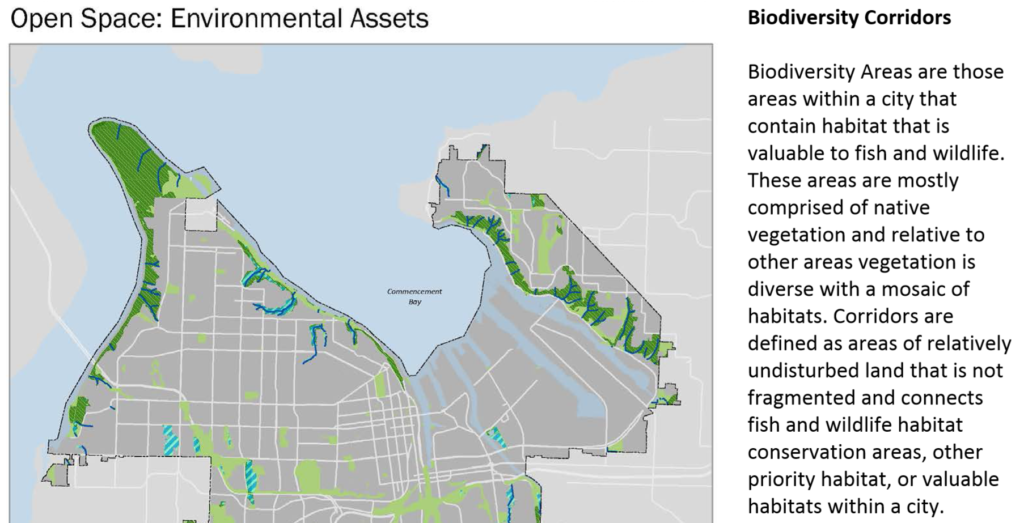 From the staff report:
"The Parks and Open Space designation [in the Comprehensive Plan] includes a variety of areas including active park and recreation areas, passive open spaces, steep slopes, and other important habitat areas. Many of these lands remain privately owned and zoned to encourage development. While some sites are protected by critical area standards, others currently lack development standards that would adequately protect and retain the multiple important functions and values these lands provide."
The proposal would change permit criteria to locate development outside of these Biodiversity Areas/Corridors "when feasible", and to otherwise minimize impacts by allowing no more than 35% of overall vegetation to be disturbed. This change to the Critical Areas standards could impact the type and extent of development that is allowed on properties along these corridors.
For more information:
For details on \this and other proposed amendments, visit the city's website at cityoftacoma.org/2018Amendments. In particular, the Public Review Document has detailed staff reports for each project.
If you have feedback about this application, be sure to attend the public hearing (April 4) or send your written comments (April 6) by the deadlines!
Public Hearing Details:
April 4, 2018
Tacoma Municipal Building, Council Chambers
747 Market Street – 1st Floor
Meeting begins at 5pm with the public hearing beginning at approximately 5:30pm
In addition to comments at the public hearing, written comments are accepted until 5pm on Friday, April 6, 2018. Comments may be submitted to: Planning Commission, 747 Market Street, Room 345, Tacoma, WA 98402, via fax at (253) 591-5433, or via email to planning@cityoftacoma.org.